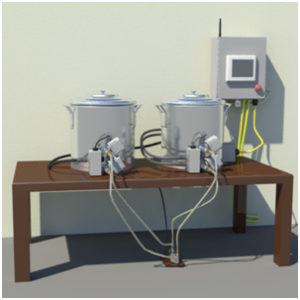 Mars Rising Network is pleased to introduce Brew on the Go. Brew on the Go provides an easier method of extracting fermentable sugars from whole grain to make your own beer with the press of a button. For a process that typically requires constant monitoring and multiple pieces of equipment, Brew on the Go pares it down to one piece of equipment and an automated process.
"When I first started brewing beer, I found it very costly. I wanted to move into brewing with whole grain, so I started researching and realized there was no equipment readily available. But, I could build my own," Tristan Todaro, inventor of Brew on the Go, said.
While there are similar products on the market now, they feature single-pot systems where the user has to put his or her own ingredients in, and they are typically very small, limiting the batch size. Brew on the Go will not only be bigger but will be able to store recipes based on the ingredients the user puts into the system. Additionally, the product will be able to react and change the process based on the ingredients used.
"I'm a licensed electrician, and electrical controls have always fascinated me," Todaro said. "I started brewing beer six years ago and wanted to automate the process."
After hearing positive feedback from friends and local homebrew stores, Todaro sought out the help he would need and came across Mars Rising Network, an invention services company that helped him file a patent, develop a website and create a product video.
Todaro built a prototype of Brew on the Go himself; however, he knew he would need a more refined prototype to get his product to market. Todaro is currently working with Mars Rising Network to facilitate the creation of a new prototype, phone app and touch screen for Brew on the Go.
"[Mars Rising Network] won't do all the work for you. They don't own your invention, and they want you to be successful on your own. But, they provide you with the knowledge to do so," Todaro explained.
Todaro is also in the process of finding a manufacturer who can build Brew on the Go, which he admits has been the hardest step. However, Mars Rising Network has given him a list of manufacturers, breweries and other useful contacts to utilize. Additionally, Todaro is thankful for the encouragement that Mars Rising Network provides him.
"What helped me out the most is their encouragement to not give up," Todaro said. "It's so easy to feel discouraged, but Jeffrey [owner of Mars Rising Network] has encouraged me keep moving forward. You can't expect it to happen overnight."
Todaro believes Brew on the Go would do well at home brew shops, so he's started contacting local shops to see if they are interested. He would eventually like to see it sold at larger retail stores like Cabela's and Bass Pro Shops.
When asked what advice he would give to other inventors, Todaro said, "Don't give up on it. It may be a long road ahead, but perseverance is going to help you out in the end. The only way you're going to win is if you never give up."
Find out more at: http://brewingonthego.com/
Founded in 2007, Mars Rising Network (MRN), the world's largest inventor resource center, was established to assist inventors in making their invention ideas a reality. MRN is a company focused on promoting the lasting success of experienced inventors and first time inventors alike. The company supports inventors through various avenues including, patent protection, licensing and marketing, product design, creating 3D animation videos, engineering services, 3D design and prototyping. MRN ensures positive results using methods that have proven to be successful for inventors across the United States.