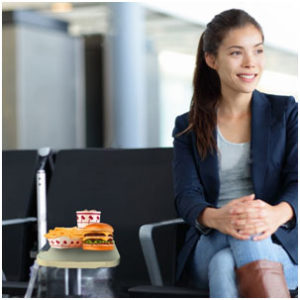 Fairfield, California – The EZ Travel Tray is a lightweight, compact tray that attaches to your carry on luggage. Gone are the days of searching for a table in the airport to work or eat on between flights. The EZ Travel Tray offers a simple way to turn your carry on into your own personal table.
"You're sitting in the gate waiting to board, and there are not many options available," Freddie Sumilhig, inventor of the EZ Travel Tray, said. "The EZ Travel Tray has two foldable legs and adjustable quick release strap to safely and securely attach to the top of your carry on luggage."
The product is perfect for anyone on the go whether travelling for business or leisure. It measures 10 inches by 13 inches with a ½ inch thickness making it easy to store in a carryon.
"My intention is to design a device that would be inexpensive, compact and easy to use," Sumilhig said. "I worked hard to make it a universal fit for the different styles of carryon luggage."
Sumilhig began working on the EZ Travel Tray in 2014. After thought and research, he contacted Mars Rising Network, an invention services company. After a negative experience with a similar company, he was very cautious. He was impressed with the high number of positive reviews and was confident that Mars Rising Network would give him the guidance he needed.
"This is my first experience in getting a patent," Sumilhig said. "There's a lot of information out there to help guide you, but it can be somewhat intimidating and frustrating."
Mars Rising Network offered Sumilhig support in writing the patent application, creating drawings, developing a website and producing video animations. The company also offered Sumihig a database of resources including trade show opportunities, manufacturers and investors.
Sumilhig explains that he is ¾ of the way to getting his product to the market. To get to the finish line, he says he will need to create a more refined prototype, for which he plans to solicit Mars Rising Network to help. From there, he will work toward obtaining a licensing agreement from a company that will manufacture and sell the EZ Travel Tray.
"To reach that goal of bringing my invention to market – that last quarter – I need someone to give me an opportunity and belive in my idea," Sumilhig said.
Sumilhig conducted his own research and built his own original prototype. He knows that he has to put in hard work to get results – an ideology that Mars Rising Network re-enforces – and encourages other inventors to do the same.
"Mars Rising Network will help you all along, but in the end, you need to go out there and work yourself to get your idea to the market," Sumihig said.
Mars Rising Network is continuing to support Sumilhig and is available for any additional help or resources that he needs.
"I wouldn't be as far along as I am without Mars Rising Network," Sumilhig said. "They've been helpful in communicating with me and giving me guidance."
Find out more at: http://eztraveltray.com/
Founded in 2007, Mars Rising Network (MRN), the world's largest inventor resource center, was established to assist inventors in making their invention ideas a reality. MRN is a company focused on promoting the lasting success of experienced inventors and first time inventors alike. The company supports inventors through various avenues including, patent protection, licensing and marketing, product design, creating 3D animation videos, engineering services, 3D design and prototyping. MRN ensures positive results using methods that have proven to be successful for inventors across the United States.