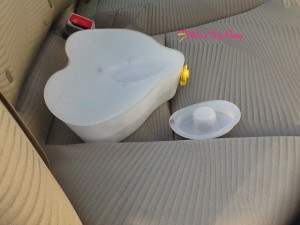 Westmont, Illinois – The Road Trip Potty is a portable urinal for females of all ages with restroom emergencies. The product is currently being manufactured and will be available through an online store later this year. The portable potty fits discreetly under the passenger seat and can be taken out when women are stuck in traffic and unable to find a convenient restroom. It is splash resistant and leak resistant to keep the process clean and hygienic. The product is also heat resistant, allowing for safe long-term storage in the car.
"The Road Trip Potty helps women who have urination emergencies because we can't just stand on the side of the road and go like men and boys," Angela Brathwaite, inventor of the Road Trip Potty, said.
Brathwaite came up with the idea after she suffered from a work-related injury that left her with a disability. With having to go to the restroom frequently, she had a clear vision of what she needed, but could not find anywhere to purchase it.
After weeding through invention services companies that wanted a percentage of her product sales, she found Mars Rising Network. The positive reviews on Better Business Bureau prompted her to pick up the phone and call Mars Rising Network.
"When I called, I actually spoke to Jeffrey [owner of Mars Rising Network]," Brathwaite said. "I felt a rapport with him. I have had the most amazing time working with him. It has felt so personalized."
Mars Rising Network helped Brathwaite obtain the design patent and utility patent as well as design the artwork for the invention. Beyond that, Mars Rising Network encouraged Brathwaite to move forward in creating the product.
"Jeffrey gave me belief in myself and belief in my product," she explained. "I don't have a traditional engineering or business background, so I needed that encouragement."
Mars Rising Network also provided Brathwaite with resources for trade shows, manufacturers and more to help her product take off.
"Anything that I could have asked for as a resource, I felt like I had it at my fingertips," Brathwaite said.
However, Brathwaite was not able to take advantage of those resources because of her disability. With trouble sitting and walking, she would not be able to market her prototype at trade shows. Instead, she decided to seek loans to fund the product and start her own business, and Mars Rising Network was there to help.
"I figured out a way to create my own format for starting my business, and I consulted Mars Rising Network in doing that," Brathwaite explained. "Jeffrey gave me great advice on starting a business and telling me things that I need to think about that I never would have thought to ask about. I'm extremely thankful for that."
Brathwaite will also be manufacturing a car seat cover to protect a car's leather and fabric seats while using the Road Trip Potty as well as a discretion cover to shield the individual using the product.
With a background in education, Brathwaite strives to continue helping people, teaching people and giving back. Her business model will include distributorship opportunities for women, where she will provide tools to help them create their own opportunities; college internships, where she will continue to be connected to her passion of education; and job opportunities for Americans.
"All of my products, including the materials my products are made from, will be manufactured in the USA," Brathwaite said.
Brathwaite developed an entrepreneurial spirit once she was able to connect her passion for education and creating something good for the economy to something good for women. As she awaits the release of the Road Trip Potty and works on obtaining a patent for her second undisclosed invention, Brathwaite offers advice for new inventors as they begin their journey.
"Start with Mars Rising Network!" she said. She added, "If it's something that you want to do, be patient. Remember that it is not a linear process. There are so many things that you don't know you don't know until you actually start. You've got to be patient."
Find out more at: http://roadtrippotty.com.
Founded in 2007, Mars Rising Network (MRN), the world's largest inventor resource center, was established to assist inventors in making their invention ideas a reality. MRN is a company focused on promoting the lasting success of experienced inventors and first time inventors alike. The company supports inventors through various avenues including, patent protection, licensing and marketing, product design, creating 3D animation videos, engineering services, 3D design and prototyping. MRN ensures positive results using methods that have proven to be successful for inventors across the United States.